I wanted to share a quick list of some of the various ways I use mason jars around my home. They're sturdy, non-toxic, and versatile containers, making them perfect for the kitchen and other areas of the home. Plus they replace a lot of plastics you may be using, so they're great for the environment. I have a big drawer dedicated to just all my mason jars & I go into that drawer literally at least 5 times a day!
You can customize them to fit your home aesthetic! You can paint them (tutorial here on the distressed look), label them with cute labels, and decorate with burlap and string
If you already have a ton of mason jars laying around, like me, then I hope you find some inspiration here for different ways to use them!
If you don't have any yet but want to get some, the cheapest place to buy them BY FAR is Walmart. You can get a 12 pack of most sizes for under $8. Here are some links to get you started on the four main sizes I use:
And now for a list of my favorite ways to use them! I hope you find some inspiration, and I'd love to hear the different ways you use them, too!
Kitchen
I use the standard 16oz size mason jars for my daily drinking glasses at home with a reusable straw. They're also perfect for cocktails and iced coffee!
Mason jars are great for dry foods in your pantry. I personally keep a lot of my baking ingredients in mason jars, and have them labelled with these cute chalkboard labels. They are also great for various snacks like pretzels and nuts, so you can buy them in bulk!
I use mason jars like 90% of the time for leftovers to keep in the fridge. They easily replaces plastic tupperware, ziploc bags, and the plastic wrap you put over bowls. See my blog post here for more ways to significantly reduce the use of plastics in your home!
MIND BLOWN! The standard opening of mason jars fit perfectly into most blender blades, so you can pop it straight onto your blender base and then drink your smoothie right out of your mason jar. Super easy! You can even prep ahead of time to save time in the morning.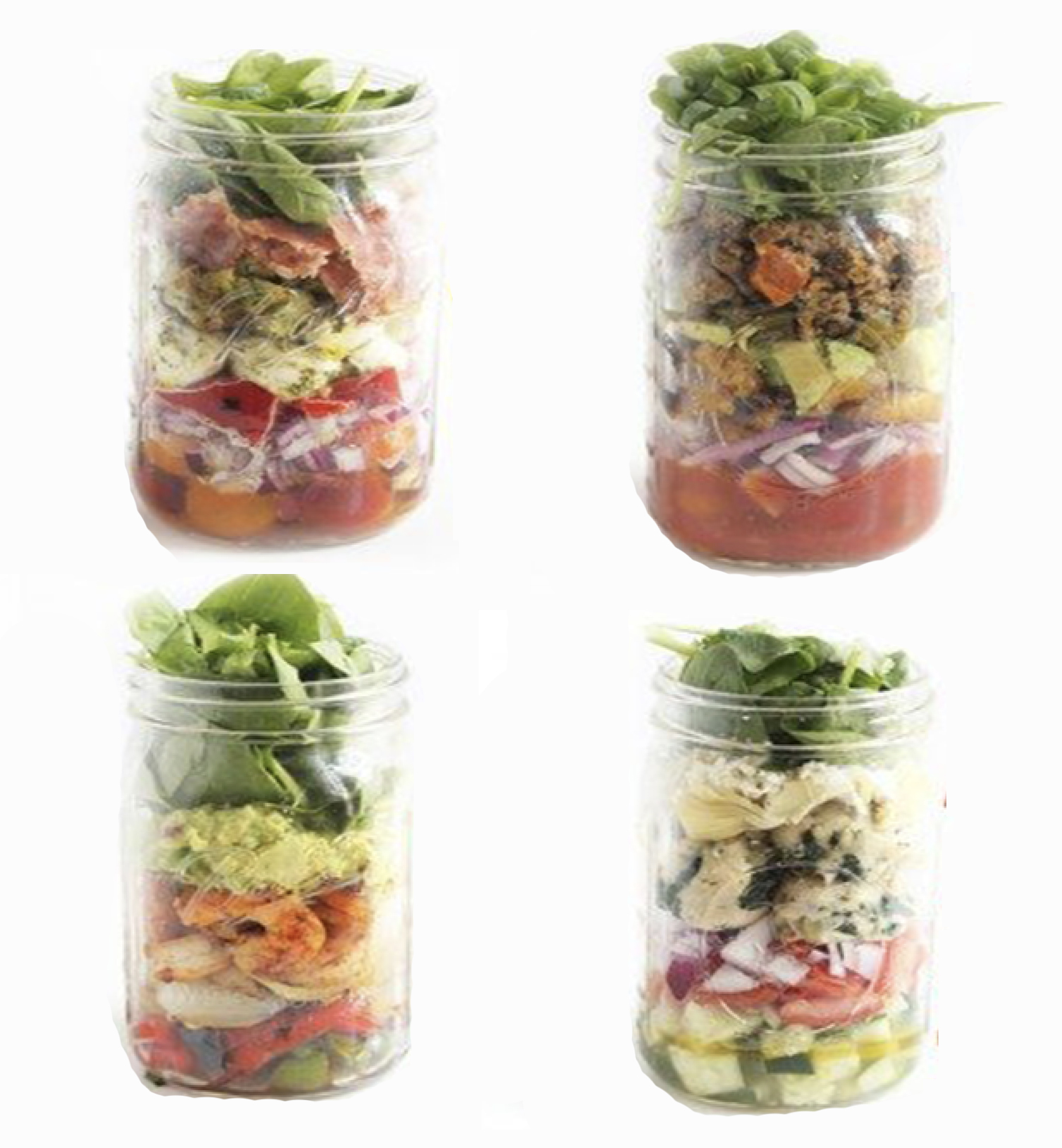 I have my coffee & tea area in my kitchen organized with a bunch of mason jars. They are also labelled with the cute labels from my label maker. It's keeps it organized so it's easy for guests to help themselves & easily find what they need. Plus it's super adorable!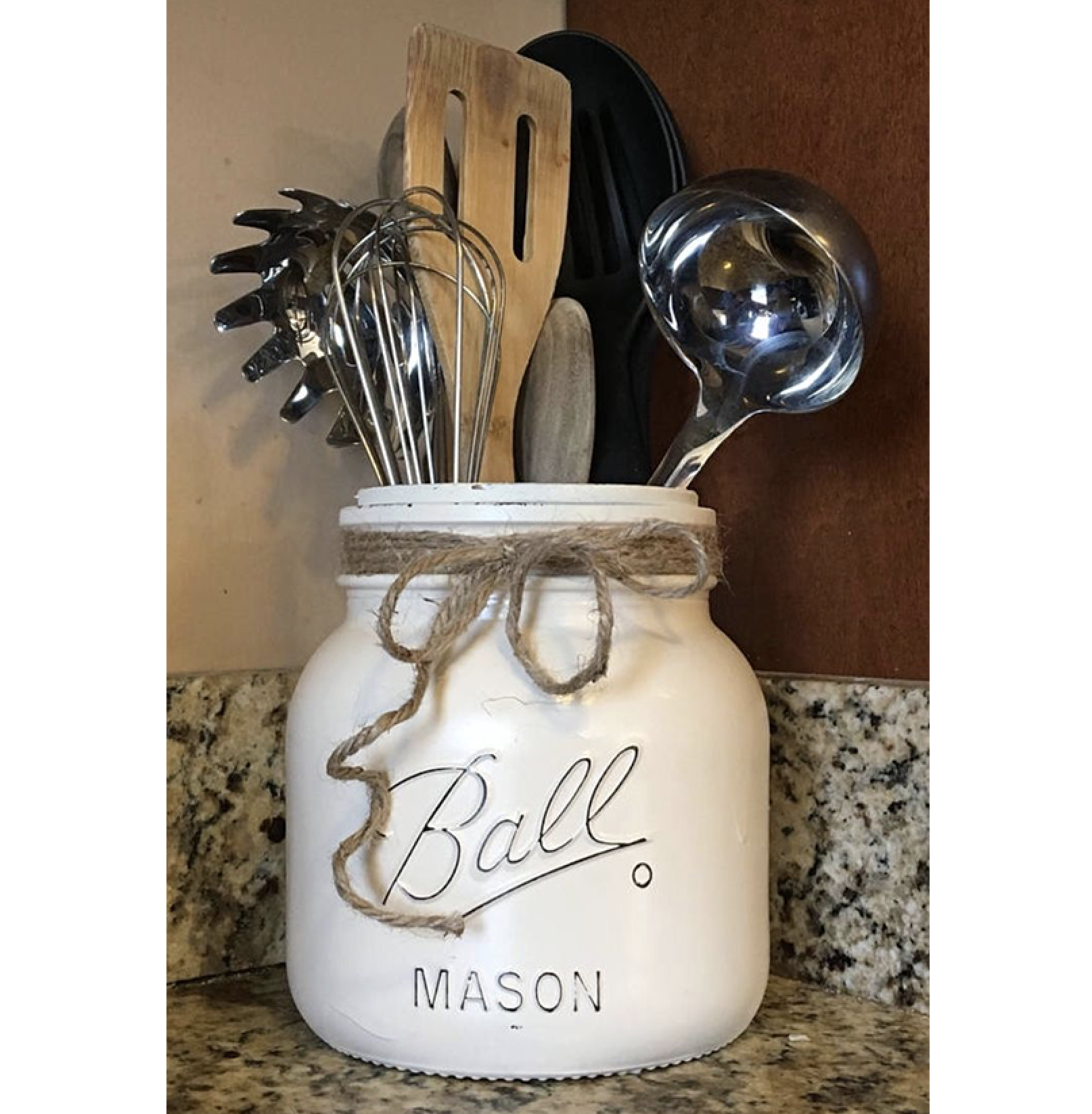 They look adorable on the kitchen counter to store your cooking utensils!
Mason jars are labelled on the outside, so I use a standard 16oz size as my measuring device in the kitchen. It's naturally labelled for 2-4-6-8-10 ounces (1/4 cup is 2 ounces; 1/2 cup is 4 oz and so on. It's also labelled in milliliters if you prefer that form of measurement.
You can buy shaker tops like these that fit the rim, and use them for foods like flax seeds, chia seeds, spices, etc while you're cooking.
We keep one on our bathroom counter for our toothbrushes. Simple, cute and functional!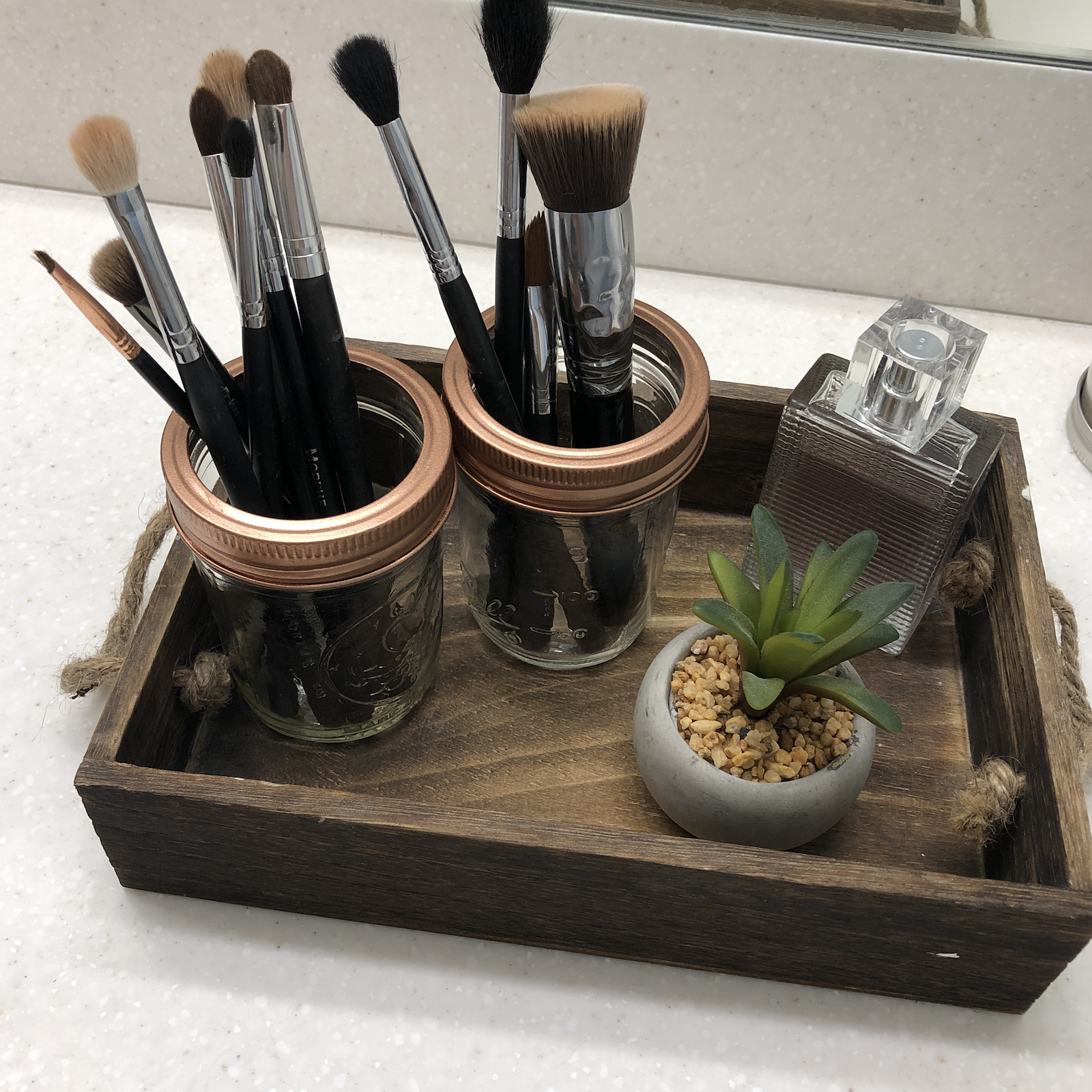 Same thing with makeup brushes! I spray painted the rims rose gold to add a cute, feminine touch!
The smaller mason jars make for cute storage for your smaller bathroom items like cotton balls and cotton swabs.
Another great swap in your home to help the environment. Plus over time it saves you a money. Invest a few bucks on a pack of soap dispensers lids, and put them on your mason jars. Then fill them with hand soap and put them by all the sinks in your home. Buy your soap in bulk so you can just keep refilling each dispenser when it runs out, instead of buying a new single soap dispenser each time. Saves money AND plastic!
I love this top that screws onto a mason jar. I like to use my own DIY cleaner for surfaces & windows (vinegar, water & essential oil) It's insanely cheaper than buying cleaner the store, plus it's nontoxic in glass over plastic, which is important to me as a mom. Plus it's better for the environment because you're not constantly buying your cleaner in plastic bottles.
I haven't done this yet, but I just love how this little herb garden looks in these mason jars! So cute! Click here for the tutorial I found on Pinterest.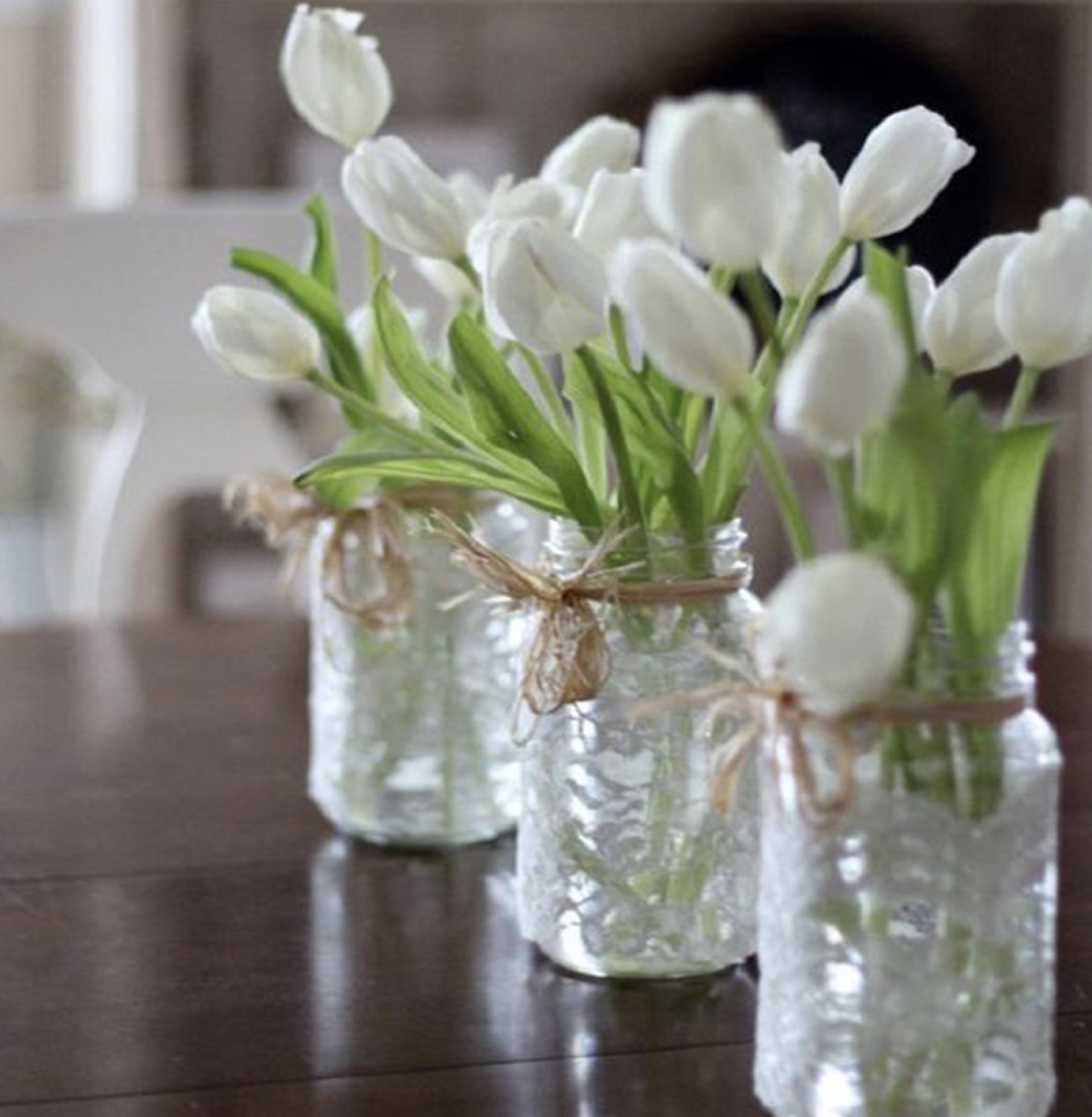 I often use mason jars as simple vases around my home. So cute & simple!
I love to fill mason jars with pretty much anything and just display them on counters and shelves. It can be functional, like for pens on your desk. Or it can just be pretty, like to display seashells or sea glass on a shelf.
We keep a big mason jar on the counter with the opening exposed, and we throw all our spare change in it!
You can buy wax and melt it yourself, or you can reuse the wax in your store-bought candles when the wick runs out. You can buy candle wicks here. (Side note- you can always reuse your candle jars too for other things in your home - pop them in the freezer to easily get out any remaining bits of wax - it's easy to get out the wax when it's frozen!) **These candles also make great gifts!
I love using mason jars for various gifts instead of wrapping paper or gift bags. It's great if you're gifting multiple people because you can buy in bulk and make several at the same time. Some of my favorite ideas are: candles, homemade bath salts, cookie mix & recipe, and homemade sewing kit.
I use a ton of mason jars when I host dinners or parties. One way is as an effortless centerpiece on the table. Either as vases with some flowers, or I fill them with something fitting for the holiday/occasion. There are lots of ways to make it your own! (TIP FOR BRIDES: these makes a really affordable centerpiece for your wedding tables!)
I also use them to hold silverware on tables!
I use the x-small jars for serving dishes for butter, sauces etc with a little spoon. I also love using the small size for finger foods like veggies, nuts and crackers. They look so nice on the table with no effort at all!
Thank you for reading! I would love to hear some of the ways you use mason jars in your home! <3